Back to INDEX ....................................... Model Displays ............................ To Displays 2002-2008
I thought it would be a good idea to feature some of the model displays that I have taken part in over the years, so that you can see what the models actually look like in 'real-life', and so that I can also then remember what I have been doing! Unfortunately I usually spend so much time and effort transporting and setting up the displays that I never seem to have the time to take that many pictures - so my thanks go out to those people that have kindly sent me in theirs.
Planned Future Displays
DigiCon 2 - 21st February 2016 - see LINK
..............................................2015..............................................

Fanderson: The Future is Fantastic - 2nd - 4th October 2015
As usual I was enlisted to provide a display for the latest Fanderson convention....just remembered that my first one was Fanderson 1982, boy thats a long time ago! My new Overlander model made it's first public appearance and the Eagle stood on a rather nice landscape set built by professional model maker Chris Trice. (Theres a few more pictures on my Eagle 1 Today webpage.)
With the original 'Thunderbirds' television series reaching it's 50th birthday this year we have seen a variety of new merchandising items in the shops to celebrate the occasion. One of the latest being this bookzine publication by Panini magazines.

It includes interviews with many of the people involved with the creation of the much-loved series, with many behind-the-scenes photographs and pictures from every episode made.

It also includes spin-off items about books, toys, and comics, as well as interviews with other people ......... like me!

Smallspace: 4 - July 12th 2015

Smallspace was bigger than ever this year with a record number of people displaying their models, puppets, and props. I had my latest models, Spacehawk and Fireball XL5, on display together with Eagle 1... which this year was joined by Eagle 2 (top left) courtesy of Andrew Frampton.

Visit the Smallspace website for a full picture report - See LINK
Andercon 2 - June 12-14th at Athena in Leicester

The second Gerry Anderson convention to be organised by Anderson Entertainment was another full weekend event, this time held in the city of Leicester. Like the previous year it also featured a great many puppet and model displays. There were some very nice original studio items on show but most were replica builds including some rather large puppet sets and an 88" Eagle (unfinished). I was there again with a fair amount of my collection and took the opportunity to show off my newly built Fireball XL5 model, which is an improved version of the previous model featured on this site.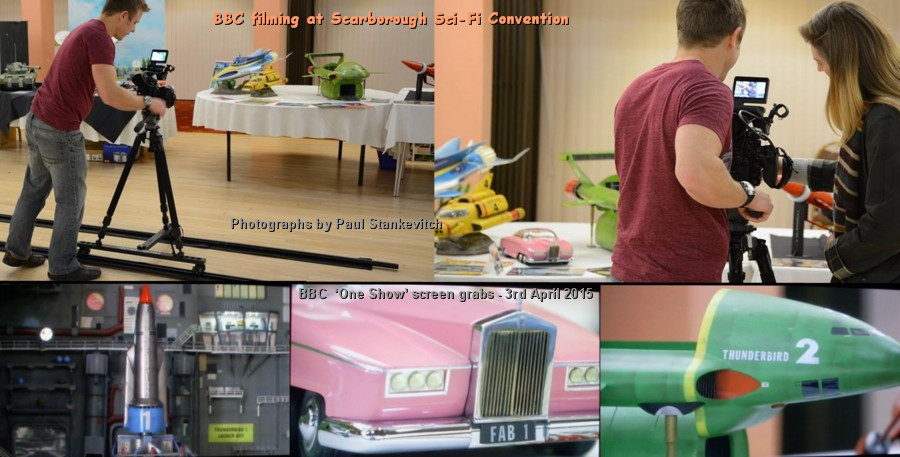 Sci-Fi Scarborough 14-15th March 2015 at the Spa Complex

A good weekend in Scarborough for my first public display of 2015 and the BBC's 'One Show' turned up to film some clips for a program about the classic 1960s series Thunderbirds. This short feature was broadcast in early April to tie in with the first showing of the new series 'Thunderbirds Are Go' - yet another poor attempt to bring 'International Rescue' back to life, but this time by using CGI cartoon characters.

During the weekend many attendees were interviewed to explain why they liked Thunderbirds...... and they all ended up on the cutting room floor! My sympathies go out to them all - but I wasn't too surprised having experienced this sort of thing before. I did at least get three models on screen (see above screen grabs), if for only 2-3 seconds each. Still that does now mean that my Thunderbird 2 model has now appeared on BBC1, BBC2, and BBC4, I just need BBC3 to do a program on Gerry Anderson and I will have completed the set!
..............................................2014..............................................
Alpha: 2014 The UK Chrysalis - Space: 1999 convention Sept 12-15th 2014

'Space: 1999' fans from around the World gathered at the Holiday Inn, in Peterborough, to celebrate the classic 1970s Gerry Anderson television series. Here they were able to meet and chat to the stars, buy new merchandise, and see a large display of props, models, and costumes from the show. The display consisted of both replica pieces and many original studio items, including two original 44-inch Eagles, Moonbase Alpha buildings, and the appearance of four spacesuits.... we probably haven't had that many together since the show ended back in 1976!
Youtube video - See Link
Photo above left: Catherine Schell finds her old spacesuit from the film 'Moon Zero Two'. Top right: Alan Carter returns to Moonbase Alpha as actor Nick Tate visits the set built by Darrell Simmonds and Hilton Fitzsimmons.
Photo below left: Nick and Catherine have their photos taken (replica jacket by David McLaughlin).
Photo below right - left to right: Paul Stankevitch, Martin Willey, David Sisson, Jim Winch, Bill Oram, Chris Potter, Darrell Simmonds, Andrew Frampton, Hilton Fitzsimmonds, Simon Rhodes, and Tony Freeman.

RAF Cosford: 2 - 17th - 18th May 2014
Below - Newspaper article courtesy of 'The Shropshire Star'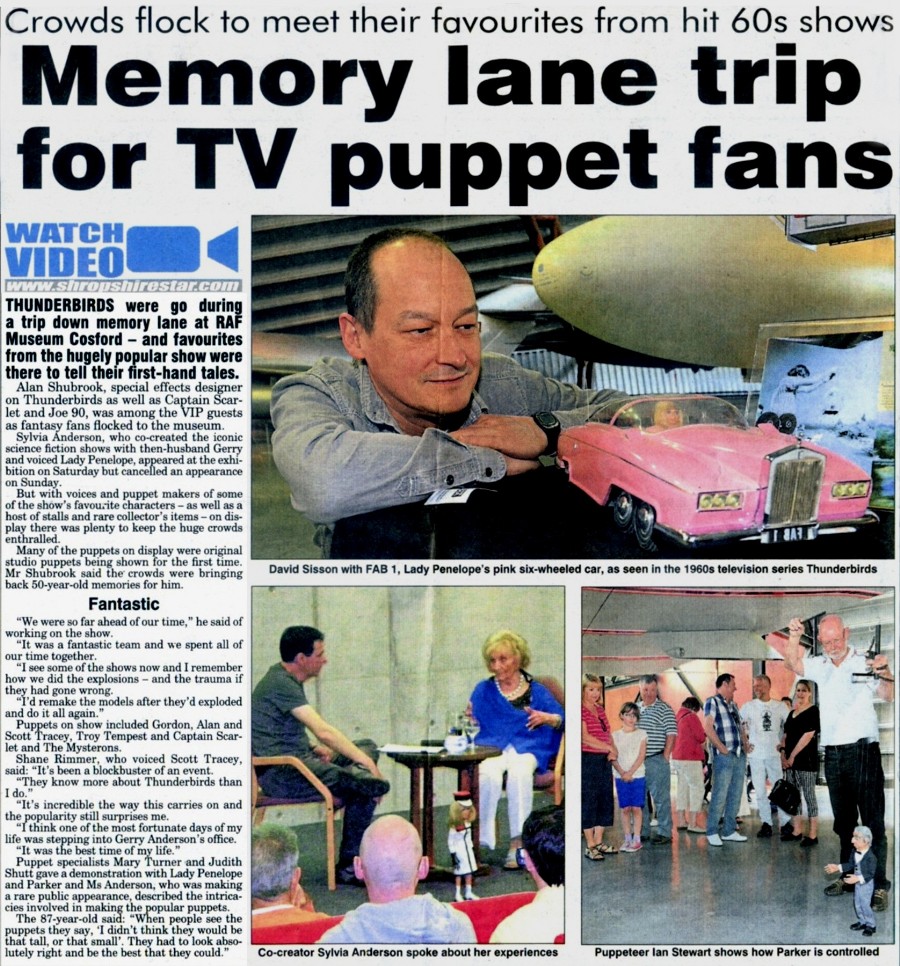 After the success of the first display (in 2012) the RAF Museum dedicated another weekend to the classic Gerry & Sylvia Anderson television shows. I was part of a large group of fans displaying original and replica models, props, and puppets. In fact this was probably the largest collection of original studio puppets ever assembled for such a display, and seen by nearly 5000 visitors this time.
Contributors included - Bob & Sue Bailey, Simon Rhodes, Phil Rae, Andrew Frampton, Chris King, Mamas Pitsillis, Mark Shaw, Hilton Fitzsimmons, Darrell Simmonds, Chris Potter, Graham Farley, Chris Trice, Martin Willey, and Jim Winch.

Photos above: part of the large puppet display, these are mostly restored original items which included three Joe 90s!
Photos below: Our display area, with Phil Rae (far left), Simon Rhodes (centre) and Mamas Pitsillis (right)...... Centre photo courtesy Rob Carson

.

Andercon: 19th - 20th April 2014

Andercon 2014 was the first Gerry Anderson Convention from Anderson Entertainment, a weekend dedicated to celebrating the worlds and characters created by the legendary television producer, featuring a variety of prop, puppet, and model displays, as well as a large gathering of special guests.

I managed to display most of my replica models, thanks in part to now having a bigger car! The Zero-X was out for only it's third public display - I'd take it out more often but it's a real pain to lower down from the ceiling and then have to put back up.
While I was there Liz Morgan (voice artist of Destiny, Rhapsody & Harmony Angels) had her publicity photographs taken holding my Angel Interceptor replica. Shane Rimmer (Scott Tracy) posed with TB1 whilst Matt Zimmerman (Alan Tracy) held on tight to Thunderbird 3.
Brit Sci-Fi 4 - Leicester Space Centre; 1-2nd March 2014
This years event was centred mostly on 'Blake's Seven', 'Red Dwarf' and the 'Tomorrow People'... with a bit of 'Doctor Who' too. Darrell Simmonds, Hilton Fitzsimmons, Mark Shaw, Simon Rhodes, Chris Potter, and myself, put on a display of props and models to represent the old Gerry Anderson shows. The display included the full-size 'Moonbase Alpha Command Center' replica set built by Darrell and Hilton, which proved popular with many of the visiting actors, including the 1970s Tomorrow People. Picture above right: Standing left to right- Mike Holoway (Mike), Peter Vaughan-Clarke (Stephen), Misako Koba (Hsui Tai), Sammie Winmill (Carol). While sitting at the front is Nicholas Young (John), the main star of the show who has just appeared in the new remake.
Pictures above; on Sunday the 'Red Dwarf 'cast came over to have a closer look at my models; Danny John-Jules (Cat) wanted a picture taken with him holding Fab 1, whilst Chris Barrie (Rimmer) wanted to hold his favourite Thunderbird. Not to be out-done Robert Llewellyn (Kryten) quickly grabbed a familiar looking model.
Photos courtesy of Darrell Simmonds and Simon Rhodes.
..............................................2013..............................................

Above Left: 12th October 2013 - A display by myself and Simon Rhodes at the Terrahawks 30-Year Anniversary Convention, hence the Terrahawk models taking centre stage. I had one of the original spaceships to display, courtesy of Bob Bailey, and had managed to finish my Hudson model. I also displayed the sign that hung outside the SFX stage, which is something that I've just managed to prise out of Bob's hands!
Photo above right: Smallspace 2013 that was held earlier in the year on the 7th July. Lots of fun and another great day thanks to the efforts of Mat Irvine and Paul Fitzmaurice. I had my Space Precinct Cruiser on display here although it was far from being finished.

Brit Sci-Fi 2013 - Leicester Space Centre: 9th-10th March
This years event had stars from 'Doctor Who', 'Blakes 7', and 'Red Dwarf', but was dedicated to the late Gerry Anderson; with a number of guests from his past productions there to sign autographs and give talks, lead by his son Jamie Anderson. As a result the event had a separate display area called 'Anderson Alley', which featured many replica & original models, puppets, and props supplied by Mark Shaw, Hilton Fitzsimmons, Darrell Simmonds, Simon Rhodes, Jim Winch, Chris Potter, Chris Trice, Mamas Pitsillis, Duncan Willis, and myself.

The Funeral of Gerry Anderson : January 11th 2013
A sad time for his fans around the World when Gerry Anderson, creator of Thunderbirds, Stingray, Captain Scarlet, Space: 1999 and many other fantastic television programs, passed away on the 26th December 2012. His funeral was held two weeks later at Reading Crematorium with a reception afterwards at the Phyllis Court Club, Henley-on-Thames.
It was a Humanist ceremony with tributes and memories provided by Nick Williams (Chairman of Fanderson), Shane Rimmer (voice of Scott Tracy), John Gore (Broadway Producer), Jamie Anderson (Gerry's younger son), and Jeremy Hughes - Chairman of the Alzheimer's Society, an illness that Gerry had been suffering from for many years.
The family had a Parker puppet (a replica by Duncan Willis) to display at the reception but wanted to have a bigger display to more fully represent Gerry's long career, and to provide a talking point for the several hundred invited guests. As a result I was asked to assemble a display with an item, or two, from each of his most famous programs. Further puppets and props were kindly provided by Bob Bailey, Martin Gainsford, Chris Bentley, and Ralph Titterton.
Whilst a sad occasion it was also a time to celebrate Gerry's work and the friendships that had been made over the years. Family, close friends, people from the film industry, and many old-time fans were there to remember and chat over past events.
Above right: A small reunion of Terrahawks staff pose for a group shot. Left to right: Peter Holmes, Terry Adlam, Gary Tomkins, Jan King, Judy Preece, Steven Begg, Richard Gregory, and Peter Tilbe. Insert: The tables were decorated with small floral displays in the shape of many well known craft.
See the BBC Newsnight report here on Youtube
..............................................2012..............................................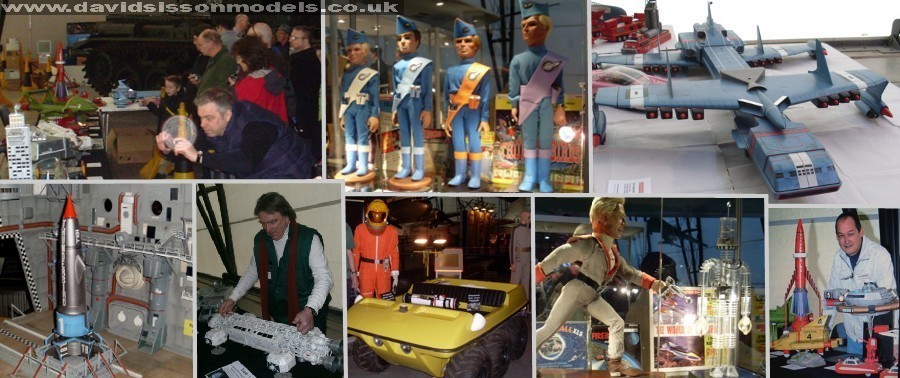 RAF Museum Cosford : 24th-25th November 2012
For one weekend the Museum put on a display of puppets, props, and memorabilia from the iconic science fiction shows of Gerry and Sylvia Anderson. The event was staged in the National Cold War Exhibition alongside a backdrop of aircraft which inspired the look and design of the shows. I was part of a large group of fans that have collected original props or built replica items, and together we put on one of the largest displays that has been seen for some years. Above: Special Effects Director Brian Johnson was a star guest, here together with the Eagle 1 model again.
The event was organised by Chris King, who's many puppets graced the display, and thanks also to the Museum staff who worked hard to make this event such a success - 3500 visitors approx. Other contributors - Bob & Sue Bailey, Simon Rhodes, Mark Shaw, Hilton Fitzsimmons, Darrell Simmonds, Chris Potter, Graham Farley and Jim Winch.

Autographica 13-14th October 2012
Hilton Metropole Hotel Birmingham NEC
This year the event brought together a large number of Space:1999 actors, possibly the largest ever assembled since the series ended. To mark the occasion a display was provided by the 'ASA' team (picture left) of Mark Shaw, myself, Hilton Fitzsimmons, Simon Rhodes, and Darrell Simmonds - seen here with guest Sylvia Anderson.

Pictures above: Series Producer Sylvia poses for photographs behind the display tables. Star guest Martin Landau visits the display. Right: I make myself comfortable on the 'Alpha' set whilst wearing my 2nd series tunic and jacket - made by David McLaughlin, as were all the other outfits on view.

Above left to right: Sam Dastor (Doctor Ed Spencer), Martin Landau (Commander Koenig), and Catherine Schell (Maya) take their turn on the Command Center replica set - built by Darrell and Hilton. Middle - Mark finally gets to play with Eagle 1.
Below: The display crew on set, Alibe Parsons (Command Center Operative Alibe), John Hug (Pilot Bill Fraser) reunited with a spacesuit, and Anton Phillips (Doctor Mathias) looks over the Eagle. (Photos by Darrell Simmonds, Mark Shaw, Hilton Fitzsimmonds, and myself)

Nor-Con 2012
A science fiction convention held at The Holiday Inn in Norwich, on Sunday September 2nd 2012. This event has been running for several years although this was my first visit. 3000 people passed through the doors on the day and met stars from 'Doctor Who', 'Red Dwarf' and several other SF productions. Highlight of the day for me was a rather excellant replica Robot from 'Lost in Space'.
Simon Rhodes and myself put on a display of models and props.

'Smallspace - the model show for all things space, science fiction and fantasy.'

On Sunday July 1st 2012 a new model show was presented by Mat Irvine and Paul Fitzmaurice at their local Village Hall in Hanslope. Hopefully this will become a regular event and it certainly seemed to be popular ......... well we enjoyed ourselves anyway!
Mat, a well known ex-BBC special effects man and space enthusiast, brought along a number studio props from the famous 'Blakes 7' and 'Doctor Who' television programs. He was joined by fellow effects man Mike Tucker, who also brought along props from 'Doctor Who' and 'Red Dwarf'', including the original big Starbug model - which was good for me as I could place my new Starbug replica against it to check for mistakes (above left), thankfully the only real difference is that I need more 'damage & dirt' on mine!

You can watch a short video here on YouTube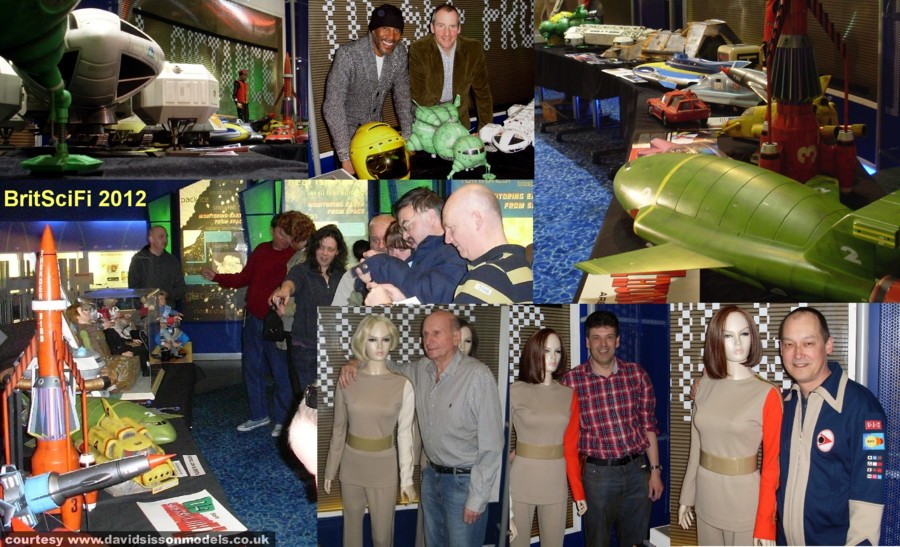 BritSciFi
An event to celebrate British science fiction, held at the National Space Centre in Leicester on the weekend 10-11th March 2012.
Saturday saw the arrival of Danny John-Jules and Chris Barrie (top centre), who play the Cat and Rimmer in the television series 'Red Dwarf', the latest series of which is about to be completed. On Sunday Gerry Anderson made an appearance to talk about his work and sign autographs. Bottom centre Gerry poses with an 'Alpha Girl', replica Moonbase Alpha costumes (made by David McLaughlin) displayed by Simon Rhodes (red checked shirt). I also wore one of Davids recreations on the Sunday, a Koenig second season jacket (bottom right).
...............................................2011...............................................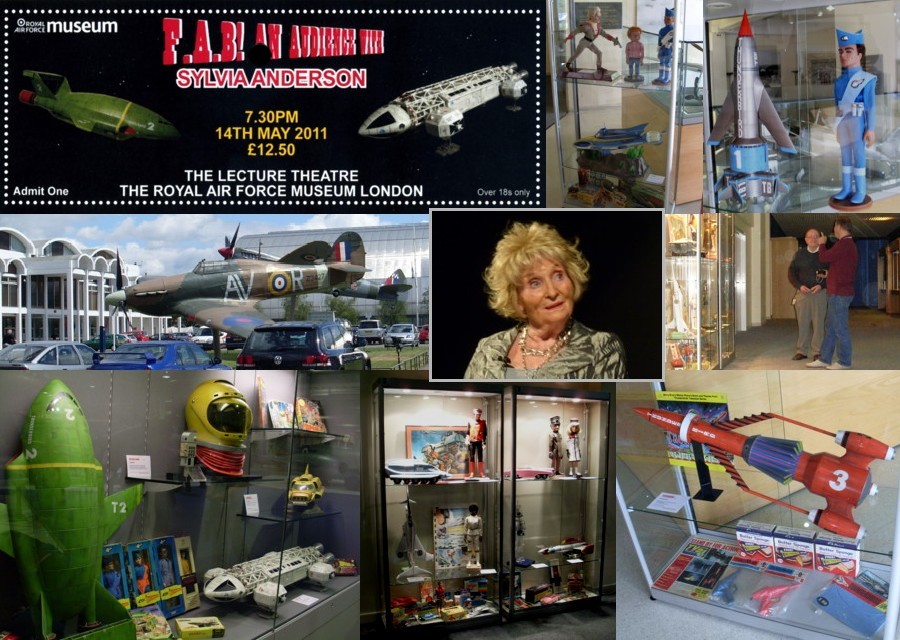 The London Royal Air Force Museum has started to hold special night events, and on 14th May 2011 it put on 'An Audience with Sylvia Anderson' - the co-producer of such classic television shows as 'Thunderbirds', 'Captain Scarlet', 'UFO', and 'Space: 1999'.
Sylvia (interviewed on stage by Terry Jervis) spoke about her start in the film industry, the popularity of 'Thunderbirds' and her later career, before signing copies of her book (My FAB years) in the museum's shop. It was a very good day and the museum is a fantastic place to visit, so go and see it - and it's free! England might not be able to afford much in the way of an air force these days but we have some great museums, with both this and the excellent one at Cosford that features the big bombers from the 'Cold War'. I always worry about supporting my small models on wires, yet they have their aircraft hanging from the ceiling!

As part of this event a display was organised for the full day, showing puppets, models and classic merchandise from the 1960s.
Display by Martin Gainsford, Maxine Cook, Bob & Sue Bailey, Chris King and myself.
..............................................2009.............................................
I finally managed to figure out how to do some small movies on my digital camera and made two films which I've posted on You-Tube. *The sound is not too good so please turn up your volume control*
The first is of my original studio Eagle and can be seen HERE
The second is on my Space: 1999 spacesuit and can be seen HERE
Network DVD are releasing a 'definitive special edition box set,' that comprises all 39 episodes of Fireball XL5 together with the first full-length colourised episode. Also two brand new documentaries, a commemorative booklet by TV historian Andrew Pixley and more.
Release date 29-June-2009.
Right; Due to the lack of photographs of the XL5 original models, and the fact that those available have been used so often over the last 40 years, this DVD features pictures of my current replica.
A large variety of slightly different photos, at differing exposures, were taken of the model against a black background, the best of which were then supplied to designer /artist Martin Cater.
Back to INDEX ............................................................... Older Displays - 2002 to 2008