Past Displays
Back to INDEX ........................................................................................................................................ Back to Newer displays page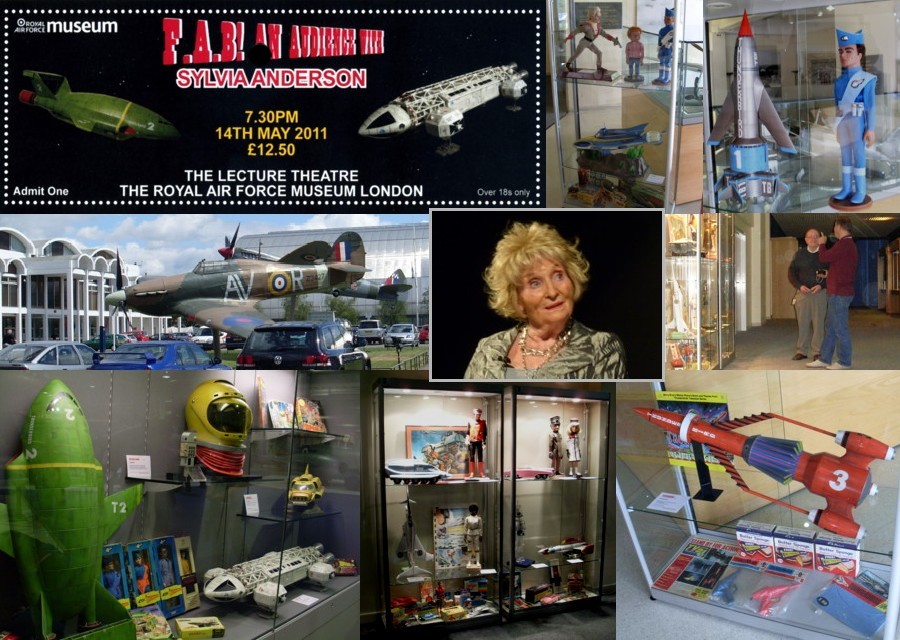 The London Royal Air Force Museum has started to hold special night events, and on 14th May 2011 it put on 'An Audience with Sylvia Anderson' - the co-producer of such classic television shows as 'Thunderbirds', 'Captain Scarlet', 'UFO', and 'Space: 1999'.
Sylvia (interviewed on stage by Terry Jervis) spoke about her start in the film industry, the popularity of 'Thunderbirds' and her later career, before signing copies of her book (My FAB years) in the museum's shop. It was a very good day and the museum is a fantastic place to visit, so go and see it - and it's free! England might not be able to afford much in the way of an air force these days but we have some great museums, with both this and the excellent one at Cosford that features the big bombers from the 'Cold War'. I always worry about supporting my small models on wires, yet they have their aircraft hanging from the ceiling!

As part of this event a display was organised for the full day, showing puppets, models and classic merchandise from the 1960s.
Display by Martin Gainsford, Maxine Cook, Bob & Sue Bailey, Chris King and myself.
I finally managed to figure out how to do some small movies on my digital camera and made two films which I've posted on You-Tube. *The sound is not too good so please turn up your volume control*
The first is of my original studio Eagle and can be seen HERE
The second is on my Space: 1999 spacesuit and can be seen HERE
Network DVD are releasing a 'definitive special edition box set,' that comprises all 39 episodes of Fireball XL5 together with the first full-length colourised episode. Also two brand new documentaries, a commemorative booklet by TV historian Andrew Pixley and more.
Release date 29-June-2009.
Right; Due to the lack of photographs of the XL5 original models, and the fact that those available have been used so often over the last 40 years, this DVD features pictures of my current replica.
A large variety of slightly different photos, at differing exposures, were taken of the model against a black background, the best of which were then supplied to designer /artist Martin Cater.
The group of happy middle-aged sci-fi geeks who attended the bigger 2008 Eagle Meet.
Pictures courtesy Eagletransporter Website

Probably a World first with four 44" Eagles displayed together - two originals, one modified AB kit and one scratchbuilt replica.

Below. Chris Trice holds the original Voyager Probe ship. Andrew Frampton positions his Original Eagle model.
Jon Wilson removes the pod on his highly modified AB replica.
A nice collection of original Space: 1999 costumes.

Saturday April 19th at the Soho House Museum in Birmingham
Nick Tate (Space: 1999's Alan Carter) has taken a three-month break from his acting, and very successful voice-over work, to embark on a World holiday trip to visit family and friends. Here he stopped by to meet some of his long-term fans for an informal chat, autograph and photo session......and to checkout the condition of Eagle One. Thanks to Eleen and Phyll of the International Nick Tate Club

Saturday November 3rd ....A small display at the Monster Carnival in Blackpool, featuring some original UFO studio models - courtesy Phil Rae.
Wednesday July 11th at the BBC Television Centre, London.

Model filming takes place as part of a BBC4 documentary about the classic 1960s works of Gerry Anderson, focusing primarily on his greatest creation Thunderbirds.

Pictures; Not too surprisingly the iconic Thunderbird 2 took centre stage. Cameraman Colin Butler sets up the shots while Producer Jeff Simpson views the footage and makes adjustments to the angles and speed of each take.

Shown on 02-Jan-2008, the program was reasonably entertaining but sadly much of the 7 hours of filming ended up on the cutting room floor. (About 6 hours 59 & 3/4 minutes!)
.
Sunday 15th April at the National Media Museum in Bradford.

As a tribute to the classic ITC productions (1950-70) Richard Holliss (sitting on the right) again interviewed Gerry Anderson on aspects of his long career, how he met and worked for Lew Grade and plans for future series.

Display items were supplied by Bob & Sue Bailey, Martin Gainsford, Maxine Cook, Chris Bentley and myself. My Scarlet replica puppet made its first public appearance - constructed by Chris King.

The second unofficial gathering of Eagle Transporter Fanatics took place on Saturday 28th October 2006 at a top secret address on the outskirts of London, England. Nine men, no-longer young but still capable of walking unaided, managed to escape from wives, girlfriends, work commitments and psychiatric detention centres to attend. Most had digital cameras locked into their sweaty palms, together with backup memory cards and replacement batteries, in order to film a multitude of Eagles and other Space:1999 goodies.
Undisputed stars of the show were the original studio special effect models, most notably the first two 44" Eagle Transporters.
Left: Andrew Frampton with his original 44" Eagle Transporter model.
Still in reasonable condition although now well over 30 years old and showing signs of wear.
(The models OK as well!)
This was the second of the three big sizes of Eagle. Built during the course of the first series in 1974, by Wag Evans of Space Models.

Below right: back row left to right- David Sisson, Barry Hinchliffe, Andrew Frampton, Jon Wilson,
Chris Potter & Tony Barnes. Front row left to right- James Murphy, Chris Trice & Tony Freeman.
Photos by Chris Trice, Tony Barnes & David Sisson.
'Sector 25' The big event of 2006 was the Fanderson Convention held in October, again at the Elstree Moat House hotel.

While there are many events at conventions the main reason for attending is to meet other people and my highlight of the weekend was talking to TV21 artist Mike Noble.
Many fans I recognise from previous events and it has to be said that we are not quite as fresh-faced as we once were! Luckily there is a new generation coming through, such as fan Jamie Burchett who I'm told enjoys this very website. Cheers.

My Zero-X (almost finished) was joined by other ZX models and collectables, including a Martin Bower MEV (left: courtesy Les Ride) one of the new MEV resin kits (built by Tony Barnes) and a mint example of the 1960s motorized toy (Martin Gainsford).

Photo's Jonathan Baxter
Also Hilton Fitzimmons & Shelley Burchett
Saturday 4th November 2006
Richard Holliss interviewed Gerry Anderson, at the NFT in London, as part of a look back at Lew Grades ITC television productions.

Several members of Fanderson provided items for a small on-stage display.
| | |
| --- | --- |
| Above left to right - Myself, Sue Bailey, Maxine Cook, Martin Gainsford and Bob Bailey. | Above left to Right - Jimmy Gibson, Steve Zodiac, Melody Angel, and replica Alan Tracy. (Steve's strange pose is because after the TV series finished he was turned into a club mascot and originally had a bowling ball in his hand.) |
'Countdown To Disaster'
September saw the Fanderson Convention move to the Elstree Moat House hotel in Borehamwood.
Photo's Jonathan Baxter

One of the highlights was the appearance of a full-size Fab 1 motorcar.

Photo Left Tony Barnes
The 2002 Fanderson Convention was called 'Stand By For Action'. It was held at the Allesley Hotel in Coventry over the weekend of the 17th - 19th May.

Photo's Dave Watkin

A good Terrahawks display at this Con.

Left: My Battlehawk and Battletank replicas stand next to the restored Terrahawk puppets (of Bob & Sue Bailey) and an original working Zeriod.

Right: My Treehawk replica launches from the restored original studio Tree prop.

Left; Fab 1 displayed next to original and replica puppets.

Right: TB3 with Zero-X (main body only) stand with the restored Paul Travers puppet.
Photographs by: Jonathan Baxter, Hilton Fitzimmons, Tony Barnes, Shelley Burchett, Dave Watkin, David Sisson