28th Apr 2018

**PLEASE NOTE**- My long standing tesco email address is finally being deleted so from today I have a new contact email address. Visit my contact page for the NEW LINK.

You might start noticing changes to the page layouts as I try to make my website more suited to mobile smartphone screens.

This year I am taking a bit of a rest from doing model displays as I am trying to finish building some new models. Hopefully though there will be a big Anderson event later in the year at Leicester, so if you are interested keep your eyes peeled for any developments/information.
13th Sep 2017

Theres been 'a bit' of a delay since my last update to this website, nearly a year and a half actually, which is considerably more than normal for me. My excuse is that I have been rather busy and my old computer just brokedown, and it's a bit difficult to update a website with no computer! However I now have a modern computer that can connect to the Internet without seizing up and dying, so visitors to my site will soon be seeing updates.

I have been continuing to do public displays, the next two are this month at the Leicester Space Centre and the Fanderson Convention, maybe I will see a few of you there.

Also I have still been putting some bits up on my Facebook site, which is much easier to do using a Smartphone. As I have been using some different techno-devices I have noticed that it was rather difficult to navigate about my main Index page with all those tiny links. Years ago someone advised me to compact all the information onto one screen for ease of use, which was fine at the time but these days people are far more use to scrolling down smaller screens so I have tried to make my Index page more smartphone friendly. F.A.B.
15th May 2016

Well its been a fairly busy year for me so far with a number of public displays under my belt, Digi Con in Doncaster, Scarborough Sci-Fi, and EM-Con in my home town - which made a nice change to driving across the country!
I've not had much time to do updates to this site but 'David Sisson Models' is now on Facebook, so you can always visit that page for more updates. For this site I'm just putting the finishing touches to a new interview which will be posted soon.
1st January 2016

New years greetings to all of my webpage visitors and I thought I would celebrate 2016 by adding a new build article - Replicating the Overlander SEE LINK.
There haven't been that many new additions to this site recently and thats because my new years resolution for last year was to leave my computer switched off and actually spend time building models, which resulted in one of my most productive times in years, so probably more of the same this year.
Hopefully in 2016 I will be finishing several more longstanding projects including the Starship Enterprise, a project that has dragged on for many years.
I don't do that many non-Anderson projects but there are a few on my list, including the Liberator and X-Bomber, that I would like to get to soon.

The next update to the site will probably be another behind-the-scenes interview, or my revised Fireball XL5 build.
21st October 2015

I tend to only use this website to show off my own work (which I guess isn't too surprising) or talk about old historic TV/film productions. But I thought that maybe I could mention some more up-to-date items that may be of interest to people who find themselves visiting my site.... as I guess that you must like this kind of sci-fi stuff to actually be here!
.......
First up is something for people who really like the film '2001 A Space Odyssey'. It is a series of high quality art prints from Simon Atkinson, which I first saw appear in the book '2001 filming the future' and actually made me buy it. These prints are somewhat better and much bigger. See LINK
.......
Alan Shubrook has released another book about his time working at the Gerry Anderson studios back in the 1960s - called 'Century 21 FX update'. After being a fan for 50 years its always great to come across photographs that you have never seen before...its like finding a bit of gold! See LINK
.......
Not quite as new, but still worth a mention for those that haven't spotted it, is a book by Richard James about his work on Gerry Anderson 'Space Precinct' series - called 'Space Precinct Unmasked'. Its called unmasked because Richard played one of the main alien policemen and was completely covered up apart from his mouth.... and then they dubbed his voice!
But he still loved the series and has written a pretty entertaining book about it all. And as there is hardly any decent Space Precinct merchandise to be found these days this is a welcome sight.
.......
And just to prove theres still life in Terrahawks they have returned after 30 years to continue the fight against Zelda in eight more adventures in a new audio series from Big Finish.
I have to say that I'm not a great fan of audio adventures, I like to watch things, especially things that explode. However I really did enjoy these new episodes. They are 25-minutes long, using the same music and sound effects, and most of the original cast. There is one rather interesting and serious episode, but Terrahawks always seemed to work best as a comedy and so Terry Adlam's 'No Laughing Matter' gets my vote as best story of the lot.
11th September 2015
Well some bad news and good news this week.

First of all I was supposed to be taking part in a mega Gerry Anderson display at the Blackpool Comic Con this weekend. This would have been the largest public display of puppets, models, costumes and props from the classic television shows since the Wolverhampton Museum display around 25-years-ago. But after 6 months of arranging all the various people and items to display, the transport, hotels, parking, food, and display equipment, the people running the Con decided to cut the whole display room with a couple of days to go!! WTF.
This has been a major disappointment (and expense) to a great many people, and I feel sorry for anyone travelling to this event just to see us... especially those coming from overseas. I think its fair to say that the 40 display people involved will not be dealing with those event organisers ever again.

On a better note one of our all-time favourite television series, 'Thunderbirds', is now 50-years-old. To help celebrate there is a new bookzine available from Panini magazines. (See the Displays page for more pictures.) I mention this because I'm in it - four pages of my ugly mug staring back at you, what more can you ask for?

Also driving off the workbench this week is my latest finished project, the Overlander, a model that has been on the go for several years now.... mostly while I tried to find all the 36 vintage tyres on ebay. Of course when I say 'finished' that means I will probably still be fiddling with it for several more months yet, but its basically done now.
17th April 2015

We are well into another year now so I thought I better update the site with a new article, this time scratchbuilding the Spacehawk from Terrahawks - see LINK
I've also manage to repair the original studio model, so I can now clear a lot of space in my workshop and concentrate on some of my many other projects currently gathering dust.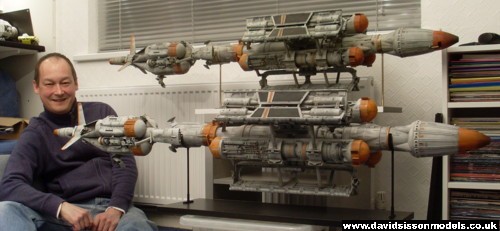 7th December 2014

I was kindly given some more Terrahawk photographs this year so I thought that I would update my TH's-behind-the-scenes section with a Treehawk model page. See LINK

I've also added a few more photos to the interview pages - my thanks to Gary Tomkins for his generosity in scanning his old picture album, and allowing me to share them with you. More to come.

I've been a bit busy this year on a variety of projects that are all slowly getting near to completion. One major twin-project that started last Christmas is the repair/restoration of the original Spacehawk model that has suffered major damage over the last 30 years - and the small task of building an exact duplicate at the same time. I've never had two 5-foot models on my workbench at the same time before, its been a quite a job I can tell you - I can't believe just how many parts go into building one of these beasts!
10th July 2014

Unfortunately when you are interest is in old TV programs from the 1960s and 70s most of the 'news' tends to be about which actor, or behind-the-scenes artist, has now died! Sadly last month saw the demise of actor Francis Matthews, best known to us as the voice of Captain Scarlet. This was a bit of a shock to me but I was even more shocked when I saw that 'The Telegraph' newspaper had decided to steal one of my puppet images to use on their website! See - LINK
Always a shock when a photo that you take, of something you own and helped make, standing in your living room (hence the wallpaper behind it) ends up in a national newspaper!
So they now join my list of thieving scumbags, especially annoying when they couldn't even be bothered to properly answer my polite query on how it had come to happen, or put my name to the picture.
The Telegraph, an unprofessional newspaper in many departments!
28th May 2014

Well its been a fun few months with the 'Andercon' and 'Cosford' events taking place. Hopefully everyone who attended these events enjoyed themselves, as I certainly did - especially at Cosford where I saw a lot of old faces from the past.
After putting all my models back on the shelf from the last excursion - see displays page - I've finally got round to putting an article together about the Space Precinct Cruiser replica. Not the most difficult of builds (thanks to getting a casting out of the studio moulds) but still a fair number of problems to overcome, so I hope you enjoy reading it.
24th Mar 2014

Another year and another change of look for the webpage - I seem to make more changes than I add articles! I finally decided that the site was too big for the main Index page to cope so I've simplified it and split the site into two parts, 'my replicas' and the 'other projects'. Hopefully this will allow me space to add more stuff with ease, plus it makes the main page less complex for those that get easily confused. lol.
I'm currently preparing for the two big displays that are coming in the next couple of months, 'Andercon' and 'Cosford', they should be pretty good events. I'm hoping to finish something new for those, but at least the Precinct Cruiser is now fully built so that will be there - and on here soon when I can find the time to write the article and take some pictures.
13th Nov 2013

Rather busy making the ten thousandth revision to my Moonbase Interceptor masters, and trying to finish the Precinct Crusier, and build the USS Enterprise, and many others... however found time to add a page about cleaning up an old casting of the Rolls Royce Hudson - See Here
My thanks to Darren Peters for the casting.
1st Nov 2013

I've been busy this year trying to build models so not much chance to add content to the website. Finally managed to finish a couple of them, the puppet-scale Jet Bike and a casting of Hudson, and my Space Precinct Cruiser is nearing completion, so articles to come on those at some point. I'm also now building the Overlander which is going to be a major project.
As for this website, I have now added more to the Terrahawks section after I finally got round to scanning some old film negetives of the spaceships in Zelda's fleet - See Here.
17th Apr 2013

I've had complaints that the photos in my 'Terrahawk' interviews are too small.... Complaints!... How dare you! 'Make them bigger you all demand', well ever eager to please I have added a new 'Terrahawks Behind-the Scenes' section just to keep you all happy.
This will develop over time as I can add new content. Steven Begg is currently redecorating and has found a number of his original designs behind the sofa, so has kindly passed them on to me. Also lot of old photographs courtesy of Phil Rae who visited the studio on occasions to draw the 'Official Terrahawk Blueprints', which David Nightingale of 'Thunderbooks' published .. and may still have to sell to you. Those of you who are really old (like me) may remember some of these pictures from the early days of the classic fan magazine S.I.G.- Happy times.
17th Mar 2013

I've finally got round to adding a new build article - although as its all about my new revised Starbug you will have seen some of it before. The old page is still there so you have two to look at from now on.
See here

Also you may notice that I've redesigned the main page yet again - twice in a month, must be a record for me. This is because after a fairly quiet period I intend to add more articles to the website in the coming months and I need a format that can be more easily revised.
9-10th Mar 2013

Another good weekend display at 'Brit Sci-Fi 2013' in the Leicester Space Museum - see 'Displays' page for details, plus news of further displays planned for the coming months.
10th Mar 2013

The latest issue of the Gerry Anderson fanzine Andersonic is out now. This issue has interviews with Tony Harding and Tony Roper, a review of the RAF Cosford event, and Gerry Anderson tributes, plus more - click on the link for further details.

My Stingray model graces the cover - and thats reason enough to buy it! lol.
21st Feb 2013

Just decided to revise the old Index page. I was advised that it was best to compact it down to one screen size for ease of use and after many years of revision I had managed to do that last year - but I found it a little bit boring and just prefer the more busy look that involves a little bit of scrolling down.

Another display is almost here with 'Brit Sci-Fi' at the Leicester Space Centre next month, maybe I'll see some of you there.
13th Jan 2013

A new year has started so I thought that I better update my website. Unfortunately I don't have any new modelling articles although I have now completely finished my latest Starbug model, by adding all the working lights and more extreme weathering - achieved by blasting it with fireworks!

I am now very busy on many new builds and as a result I don't really have time to play on the computer and update the website, but now that I am building new stuff there should be some additions later this year.

One current project that has finally started is my Moon Zero Two spacesuit restoration project, although this will not be quite how I intended it to be. As I have been cleaning up the parts I have come to realise that these suits cannot be repaired and worn again - so they are now retired from future use. This does mean that I no longer have to re-make the rubber parts in rubber, but can use other cheaper and easier methods. My intention is that these suits will become standing display items.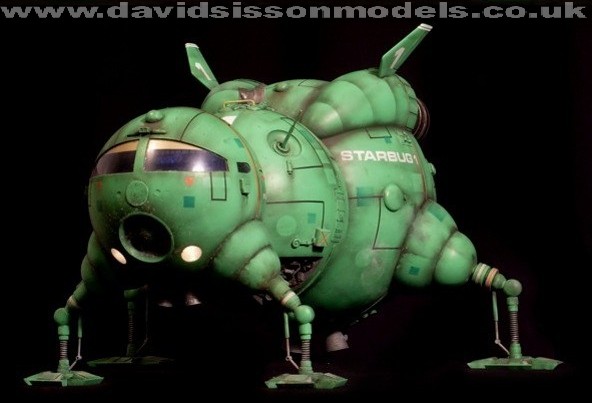 20th July 2012

Well I made a total hash of creating, and posting, my first Super-8mm film on YouTube, when I started pressing all the wrong buttons and ended up making the worst quality video so far, and the rest haven't been that great. So I had to go back to the original recording and start again. This turned out to be good luck actually as I found some upgraded shots that had not been used before, and I was able to make a number of improvements including giving my characters voices - although they do all sound rather like me!
The film's title does rather give the story away, but it can now be seen here - 'CRASH LANDING ON MARS'
17th July 2012

I've finally dusted off all my old Super-8mm films from the 1980s and put them on YouTube for the World to enjoy! To explain what it was all supposed to be about, and how I managed to make this visual masterpiece, I have now added an article in my 'Other Projects' webspace. Film making was an often frustrating hobby that had me cursing and pulling my hair out on a great many occasions, but now that I've forgotten the pain of it all I can sit back and just enjoy watching it. I hope that you find it of some interest.

On the model front I have just finished off my new Starbug - again! After seeing the original model at 'Smallspace' I had to add more weathering to mine, then break off the rear legs and reposition them by a few millimetres - luckily I didn't make too much of a mess of it and I think it looks great now.

1st July 2012

I took part in a Mat Irvine's 'Smallspace' model event at the Hanslope Village hall.
See Display page for details.
Current model build this week is the 'UFO' Moonbase Interceptor. I haven't had one of these for a few years and after a convoluted swap-deal I've found myself having to build one..... well four actually, as I'm wanting to have three myself to set in a launch formation display.
Apr 5th 2012

Datsun pages changed - work on Datsun 2 included.

Mar 10-11th 2012

I took part in the BritSciFi event held at the National Space Centre in Leicester - see Model display page.

Feb 2012

New Eagle pictures in 'Eagle 1 Today'.

Model on the bench this month is my new improved Starbug.

Dec 2011

Welcome to my new website - and it was a surprise for me too!
Yes after 6 years in its old location I have had to move the site to a new webspace provider after Tesco sent me a little email out-of-the-blue stating that the service was being 'withdrawn' in a couple of weeks - hope it doesn't cause you any inconvienience!!
'No of course I don't mind my website disappearing, and Merry Christmas to you too' I thought.

So here we now are (thats if its working ok), and as I was moving I decided to do a little bit of tidying up and change things about a little. As with all things what you think looks good one year looks rather tacky a year or so later, so I have 'tweaked' things a bit. But as I still only have an old computer, and web designer program, it mostly looks the same - so no flashy, moving, inter-active bits yet. However as I now have more webspace to play with some of the pictures can get a little bit bigger, which might be of help.

New on website - in 'Moon Zero Two'

I have revised the whole section of my site devoted to this film. When I started it was just about the helmet that I had restored plus a few other pictures, but over the years it has grown rather a great deal and now needs to be broken up into more manageable sections. This has given me the chance to add more photos - including the addition of a 1970 calender that I recently bought on ebay. This was shot on the set of 'Moon Zero Two' and features the two lovely young ladies Simone Silvera and Amber Dean Smith (JJ Hubbards companions in the film). Photos of each month are shown, my favourites being May & June.
Also I've added a section for large pictures of the models that feature (or didn't) in the movie.